Open Healing Days
Aura Coaching, Healing Singing and Nature Café
Open Healing Days - Preview
Ever­y­thing con­sists of ener­gy, as we know from quan­tum phy­sics. Ever­y­thing is stored in the aura, our subt­le ener­gy field. Also the cau­se of phy­si­cal sym­ptoms are reco­gnizable in the ener­gy field of the aura. With the help of the aura and body scan, ill­nesses, belief pat­terns, blocka­ges, fears, oaths, enti­ties, para­si­tes, aura holes and much more can be ener­ge­ti­cal­ly per­cei­ved and thus the cau­se of lack of ener­gy, sad­ness and depres­si­on, list­less­ness and phy­si­cal suf­fe­ring can be found and dissolved.
Open Heal­ing Days are prac­ti­cal­ly ori­en­ted days to expe­ri­ence ener­ge­tic clea­ring & heal­ing on yours­elf, to learn the first steps of ener­ge­tic self-heal­ing with the help of aura heal­ing coa­ching and to prac­ti­ce tog­e­ther with others. You get an access to feel, see and heal yours­elf. You can incor­po­ra­te this like brushing your tee­th into your ever­y­day body care to live healt­hi­er, brigh­ter and more powerful. Be sur­pri­sed, you will noti­ce a chan­ge in your life!
The dura­ti­on of the event is limi­t­ed to 3 – 4 hours dai­ly, becau­se ener­ge­tic work sets both phy­si­cal and emo­tio­nal pro­ces­ses in moti­on and the ener­gy sys­tem should not be over­loa­ded. The­r­e­fo­re, the­re will be enough time for rest and rela­xa­ti­on afterwards.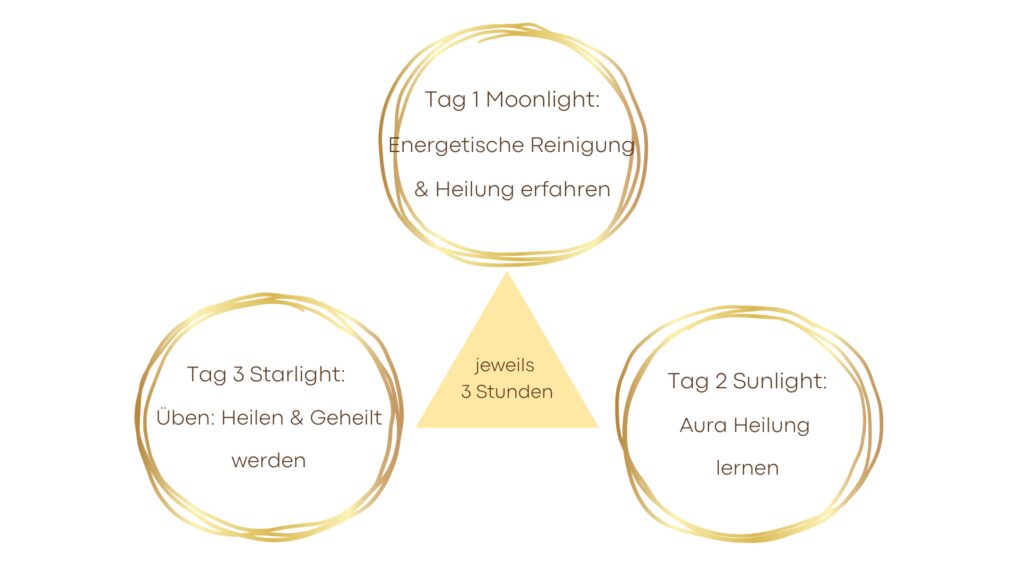 First day
Open Healing Days - Day 1
On the first day we will deal with mindful­ness and per­cep­ti­on exer­ci­s­es. The con­tents of this day include:
Exer­ci­s­es to feel the body's own energies.
Ener­ge­tic cle­an­sing and heal­ing in a sin­gle ses­si­on with Vanes­sa. The other par­ti­ci­pan­ts devo­te them­sel­ves to an ener­ge­tic exer­cise during this time.
Soul jour­ney with accom­pany­ing heal­ing chant.
On this day you will learn to obser­ve what is hap­pe­ning with your body sys­tem and train your per­cep­ti­on. In the final sha­ring ses­si­on you can ask ques­ti­ons and share how you felt that day.
Second day followed by nature café
Open Healing Days - Day 2
This day is about lear­ning the first steps of ener­ge­tic self-heal­ing. The con­tents include:
ener­ge­tic awa­re­ness exercises,
Aura­coa­ching in indi­vi­du­al ses­si­ons with Vanes­sa, indi­vi­du­al exer­ci­s­es for the other participants,
Medi­ta­ti­on with heal­ing chants and exchange.
At the natu­re café after­wards (included) you can make new cont­acts and net­work over vegan raw food cake and a heal­ing drink.
Third day followed by nature café
Open Healing Days - Day 3
The third day ser­ves to refresh and prac­ti­ce what has been lear­ned so far. After an initi­al round tog­e­ther, part­ner exer­ci­s­es are used to work on the topics that are curr­ent­ly pre­sent and emer­ging. Vanes­sa accom­pa­nies the joint practice.
The day ends with a heal­ing soul jour­ney with heal­ing chant and a sha­ring and fare­well round. After­wards, the natu­re café (included) with vegan raw food cake and other deli­cious, living snacks will take place again.
To con­stant­ly cle­an­se and streng­then your ener­gies, it is recom­men­ded to inte­gra­te the lear­ned exer­ci­s­es into your ever­y­day life. If you want to fur­ther expand your know­ledge and skills, you can deepen them in a per­so­nal aura coa­ching with Vanessa.